Last week ThinkProgress.org announced that it had migrated to Medium. This was a little shocking to me to see a large established website move to Medium that had previously been powered by WordPress. WordPress is a huge part of my life. I build websites with it, I manage existing sites, and I participate in the community as much as I can (admittedly not as much as I'd like to). I'm a WordPress fanboy but I've always tried to keep an open mind about how WordPress has evolved and how it will continue to change. It might not always be a good fit for a market it once served, and as a result a service will come along to fill that void. And that service will almost definitely not be open source.
ThinkProgress' move to a proprietary service illustrates many of the advantages and disadvantages that Medium, and similar platforms — I'm looking at SquareSpace and Shopify as a few examples — offer compared to WordPress.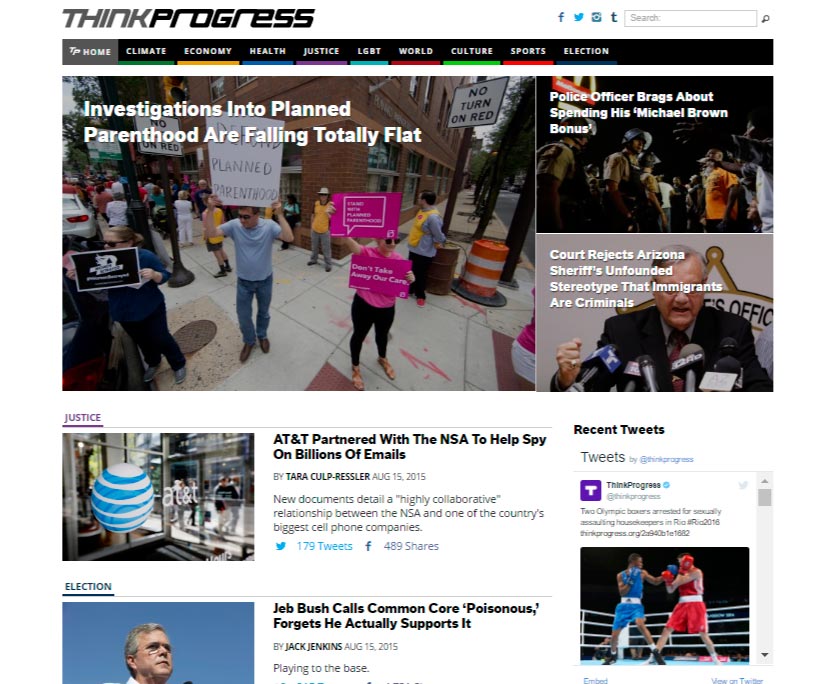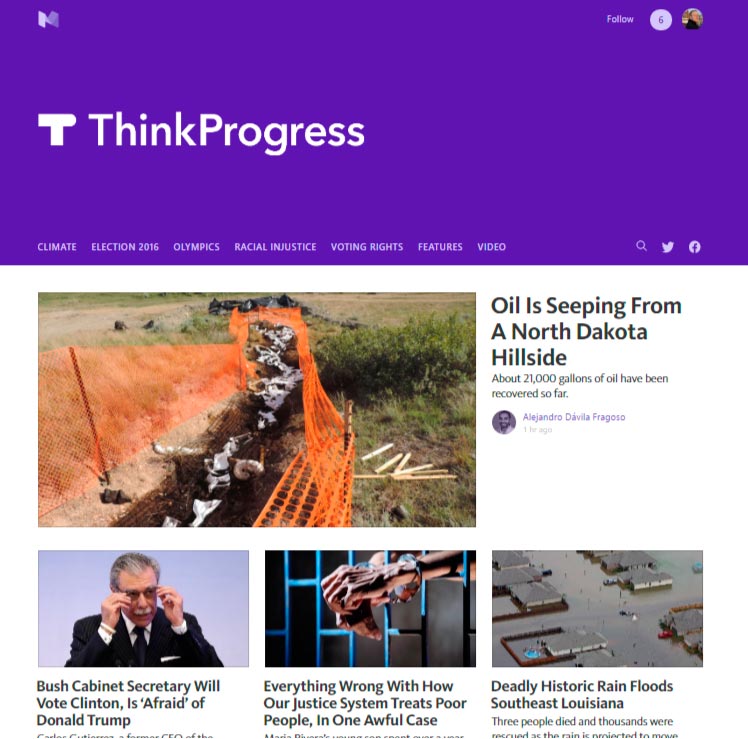 I used to visit ThinkProgress.org quite often back in the day. These days I personally get my news from skimming through Reddit, Twitter, and Facebook.
The Move
Think Progress discussed their move in a recent post "Welcome To The New ThinkProgress". It's kind of amazing. They migrated 100k posts to Medium and that process was (or still is) "maybe" a beta service that Medium is providing. TP claims to still own it's content and I believe them but I wonder how easily it would be to migrate it in the future to go back to an open source platform like WordPress or to another product similar to Medium? They claim it's going to save them money in terms of now having a partner, Medium, that can run their website. I can understand that considering they are a non-profit.
I wonder about the cost of the migration
Did the migration from WordPress to Medium happen somewhat free of cost though? I honestly don't know, and I have no evidence that it was. They don't come out and say but this CNN article seems to hint at a trade of sorts. Think Progress gets to take advantage of Medium's platform and in exchange Medium makes money off of sponsored content.
Edward Lichty, head of partnerships at Medium, said the company has drawn interest from sites to its platform by offering zero-cost hosting and "always-on product innovation."

Medium said last month that the beta version of its revenue program, which allows sites to take a cut from branded posts placed at the bottom of an article, has drawn applications from almost 400 publishers.

Legum said that also sweetened the deal. Although ThinkProgress is part of a non-profit, Legum said the site funds "a good part of our operations through ads."
First of all if Medium migrated 100k posts from a WordPress website to Medium essentially for free to get a large site into their new experiment, well I commend them and congratulate Think Progress, but that's seriously unfair in terms of undercutting the costs of WordPress service providers and agencies. But I digress…
Sponsored Content & Sharing a platform
They get an ongoing innovative platform as long as there's sponsored content? That's a great deal. I am used to ads on websites or I use Ad Blocker to hide them but when I do see sponsored content it's either disgusting and weird or, in the case of Medium, it might just be really distracting from the experience of browsing Think Progress' content. I like Medium, don't get me wrong, I've really enjoyed it so far but over the past few months I haven't been reading it as much. If I go to Medium, I want to browse Medium. If I go to Think Progress (even if I come there from Reddit or Facebook) then I want to browse it. But while I'm there, since I like Medium, if I see an article sponsored and click through I am then in the Medium rabbit hole. Think Progress then loses me because I doubt I'll browse back.
The New Design & User Experience
In terms of the design, Think Progress on Medium is awkward to navigate. Back to my earlier point, which I can't state enough, you can easily, and organically, but not intentionally, navigate away from ThinkProgress by reading through discussion and clicking on comments or users profiles. Maybe this is a good thing but ThinkProgress has been a standalone website. Their readers want to navigate ThinkProgress not Medium.
Aside from getting used to the new user interface (personally I dislike it for a standalone branded website) I am happy a non-profit has found a service they feel comfortable with. I want TP to continue to provide the service they have provided for so many years and now they can dedicate fewer resources to their website and focus on the work they do which is described on their website as "providing our readers with rigorous reporting and analysis from a progressive perspective".
Medium is now competing heavily with WordPress.com
Furthermore, I shouldn't go without mentioning the WordPress.com platform. WordPress.com is very similar to Medium and has been at it far longer. They offer a free or paid service where anyone can create a blog and publish content. You can follow others and it's actually a great publishing commnunity. They also offer WordPress.com VIP where a business could hire them to host and manage their website. Like ThinkProgress did with Medium. So it is very much a the picture I am painting… ThinkProgress moved away from WordPress and DIDN'T go to WordPress.com.
WordPress.com is improving as a result of competition
Last year WordPress.com dove headfirst into rebuilding the WordPress admin dashboard where website owners edit and publish their content. You can read more about that here. I was fortunate to be at WordCamp US last year where Matt Mullenweg, CEO of WordPress.com, invited us to "Learn JavaScript Deeply". They had built a ground-up rebuild version of the WordPress Dashboard using JavaScript and, a to their credit, made it open source.  In my opinion this rebuilt dashboard was a direct response to growing competition of platforms such as Medium. Keep in mind, and I can't stress this enough, that WordPress.com IS NOT the same as the WordPress open source platform. WP.com is powered at it's core by the open source project but it's a business just like Medium. A "self-hosted WordPress website" is what Think Progress was most likely running. That is what my website runs and what my client's sites are built on.
Self-hosted WordPress still has a market but it's changing
I think WordPress as an open source platform is still a very viable option that I absolutely recommend to businesses. Perhaps I recommend it to fewer smaller business but it's still a good option even in that market. On the higher end you have larger websites going to products such as Medium, WordPress.com VIP, or even Shopify and smaller businesses are finding that SquareSpace provides a perfect solution for their needs. SquareSpace. From my point of view, a WordPress website costs about $70 – $150 per month just for hosting, maintenance, and even more if you add in reoccurring licenses for a theme or plugins. And that's if you hire someone to do perform the maintenance. If you DIY then it takes up "X" amount of time that you could and should be spending working on your business. Time is money especially for a small business. You could just half-ass the maintenance and not pay someone to manage your website on a monthly basis. It'll probably be fine for a few years, maybe you'll get lucky and it won't have any issues. But there's also a decent chance it will break or, even worse, get hacked. This will require more time or money. It's all money either way.
A website that you fully control which will grow with your business
If it's not always the best choice for a small business or an enterprise level business then why choose it? The answer, in my opinion, is that you control your self-hosted WordPress website. This full control empowers you with "website freedom". While this website freedom does come with some on-going maintenance investment, it can grow and scale and it can scale as big as you want it to. It can be an online store, a social media platform, an events manager, a blog or magazine, and a strong tool for marketing your business online. The incredible efforts of the WordPress community and amazingly talented plugin developers have actually created a website platform that is still going to save you a lot of money. Yes, even if it has some maintenance costs, you could build a website for $8,000 today that could have cost you $25,000 or more less than 10 years ago.
And when it's built, it never needs to be completely rebuilt. It becomes a website product you control, and own, and you can build upon it as needed. It would be like buying a car that you can keep forever and just upgrade or replace parts as needed. The engine is WordPress and the paint job is the theme (I recommend Genesis). Any new technology can be plugged in. The data like your members, store sales records, news articles, or page content is stored in the database and is separate from the paint job. Need new hosting? Migrating it to another hosting provider can be done relatively easily. I provide this service and some hosting companies will do it for free (some charge about $100).
In Conclusion
I hope this article doesn't create even more confusion in terms of the landscape for website publishing tools in 2016. I came here to put down some thoughts about a WordPress website migrating to Medium and ended up saying a lot more than that. It's a robust topic for sure.
How do you feel about the competition for self-hosted WordPress websites and Think Progress moving to Medium? Leave a comment below, I'd love to hear from you.