The way I manage projects changes constantly depending on what I am currently working on. If I have a large complex project, ideally working with a team, then I like to use Asana to organize my projects and keep tasks, due dates, and important files and documents all together on a development project. I tried Basecamp a long time ago but found that I didn't like it. For a while last year I used Trello and I really liked the card system. But at some point, for some reason, I needed something simpler.
When I need to step out of Asana or Trello I fire up Evernote and keep a pen and a notepad on hand on my desk. These are usually times when I have a lot of small projects going on at once and a more robust project management system becomes unwieldy and counterproductive.
So for the past month-ish I've been mostly using Evernote to keep the chaos under control. But then I realized that Evernotes were getting out of control. I had one master document with notes about quotes,  projects in progress, business to-do's, and some personal notes about errands or personal project notes.
I immediately opened up Trello and created a new clean board. I also installed it back on my Android. For the desktop I installed the Vertical Lists for Trello extension for Chrome. All this does is allow me to shrink down my browser window and display all lists in my board vertically.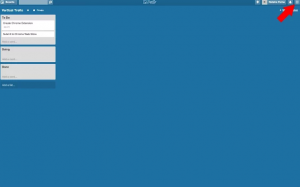 One reason I stopped using Trello the last time might have been that it became cluttered and stopped actually being useful. I was managing my project management tool and needed a project manager for my project manager.
So instead of organizing my whole life in it this time I wanted to use it for only a few personal notes I want to remember that day and for what I am referring to as "Maintenance Client Work". Basically reminding myself that it's for client work mainly and not for large projects or little things like remembering to do the laundry. I want to keep it focused so I can be focused.
At one point I tried having an organization for each client and a board for each project with lists and cards within each. This time I am keeping all projects in one board under one organization (my freelance business).
So far I have 11 cards in my Maintenance Client Work board.
Daily Notes These are a few notes that I want to keep visible for that day. Invoices I need to send, errands to run, what I am making for dinner, and calls I need to make.
Routine These cards are a few reminders that I use to try to keep myself on track in the mornings. The internet is one huge shiny object so I need to constantly remind myself to stay on task especially first thing. In this list I have a reminder to write out 1000 words for my Morning Pages, do my accounting, sort through emails and update all of my to-do lists and my project management.
Quote Requests These are quotes for WordPress development projects that I need to decide if I want to pursue (or not).
Quotes In Progress These are quotes that I have decided to pursue and that I am in the process of gather information on and writing the estimate and contract.
Quotes On Hold These quotes are on hold because I am either waiting for some details or I have sent the quote and am waiting for it to be approved.
In Progress Projects that are approved and I have started work on them. By the time the project gets to this list it has some notes in the description, an external set of documentation/files that can be attached, like in Evernote or Dropbox or Google Docs for example, and a task list maybe in the form of a checklist so I can monitor progress. I tend to use labels and sometimes attach due dates to these cards.
On Hold Projects that are in progress but that are waiting for approval or I need information from the client to proceed.
Pipeline These are projects that are ready to go. They have been through the quoting and contract process and are ready to work on.
My Website While I want to try to keep this board all about client work I decided to keep a few notes here visible for projects I need work on for my own website.
Misc + Potential Projects These are potential upsells for existing clients or potential projects that I want to try to pursue when I have an opening in my schedule
Done week of xx/xx/xx When I complete a project I move the card to this list and process it at the end of the week. This helps me to see what was accomplished and reevaluate the overall system for improvements.
As I begin to put in place WordPress maintenance packages this board will probably evolve or I might start another board for clients who have signed up for one of my regular monthly WordPress maintenance, security, and backup plans.
In the meantime I feel much better having this all in Trello. I had all of this information basically in one long Evernote note. It was really great at first but then as it became more of a beast and was confusing, I needed to wrangle it and Trello does a great job with that.
How do you like to use Trello? What's your favorite project management tool for your WordPress development work?