I really enjoyed reflecting back on 2014-2015 and writing a post about it.  One of my goals for 2016 is to write more. But what do I write about? That's the hardest part for me. I thought, why not just start with dissecting the problem a bit to peel away the layers… and why not just make a post out of it. That is what this post is about.
Who am I and what do I do
I live in Missouri and I plan to move to the (north)west coast in the nearish future with my talented and lovely life partner of 8 years who is a recent fashion design graduate from Stephen's College.  I am a freelance website wizard and a sole proprietor. I have a deep appreciation for psychology and believe that having a regular counseling session is vital for supporting mental health.  I like documentaries, science, politics, music, and cooking.
What do I have to share and what are my experiences
In the past I've been obsessed with being healthy but with freelancing (and supporting my SO through college) I sacrificed it all and my diet and weight regressed. However now I am working to get back on track.
I like business topics and reading about other's freelance experiences. I believe that 2016 will be the year peers and "influencers" speak and write more about mental health in terms of business, freelance, or working with website design/development industry and especially in the WordPress community.
Another topic I know about is my stack of website wizard skills.
But what do I want to share? I know what I don't want to write about. I don't want to write articles as an authority on topics I don't really feel like I've mastered yet. There is plentiful content out there.  More is always better but I want to provide quality.
Ok, but what do I want to write about and I either sit on my hands and talk myself out of publishing content or I start somewhere. My year in review post was the first to get some real feedback. That made me want to write more and led me to think maybe writing about my past experience in general was interesting to some. Maybe it inspires them to write and share more too? I'm not sure. But if that is the case why not write about more abstract topics rather than technical.
Let's talk about … wait for it … "feelings"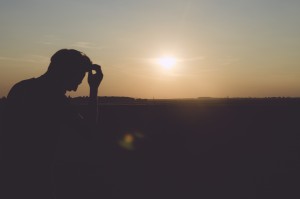 I personally like to talk about frustrations and struggles… you know "feels". What worked and what didn't work. The experience of bobbing and weaving, trial and errors, and trying to find some methods in the middle of chaos. I believe that finding support, asking for help (not being afraid to ask), and then receiving that help is something other people struggle with. It's not just me. So let's talk about it. Isn't this one of things we need to do that is critical and helpful when trying to stay afloat?  As a 38 year old hooman I am seriously questioning my sanity some days with regards to being a freelance front end developer. I have chosen to be immersed in providing a service as a coding wizard-guy for website development but in it's current form I wonder… Is it a sustainable craft due to the toll is takes on people's bodies and minds? The best answer I have right now for that is "it depends" and a little bit of "we'll see".
Shame and vulnerability
In 2015 I learned about an author named Brené Brown. I highly recommend her books and TED Talks. Brené discusses her research about human experiences with vulnerability, courage, worthiness, and shame. This has been eye opening for me. Writing this very blog post is me practicing courage. To be vulnerable and push out my thoughts to the world regardless of the risk of receiving criticism or maybe having no audience at all.
Balance
There's a lot to learn with workflows, languages, packages, libraries, IDE, task runners, local servers, version control, compatability (devices and browsers), performance, trends, communication, and business stuff like accounting and sales and marketing (etc etc times a million). But what about balance? What about exercise, contact with actual people, laughter, hugs, being disconnected from the internet, camp fires, nature, family, house work, playing with pets, eating good food, drinking enough water, moderating or quitting alcohol, and getting good sleep.
Conclusion
I don't really know if I figured out what to write about with this exercise. But I wrote about private-ish, feelings, stuff and I don't think it killed me. I actually enjoy putting it out there. That's a good sign. This post might be a springboard onto another topic for my next post.
I want to write for myself but I can always do that in my personal, offline, journal. Can I post my thoughts publicly and create a feedback loop? If sharing thoughts will inspire someone or help people them that is a worthy reason to write it out and discover a voice. As always, if you have any feedback I would love to hear it.